St. Cecilia, Cecilia also spelled Cecily, (flourished 3rd century, Rome [Italy]; feast day November 22), one of the most famous virgin martyrs of the early church and historically one of the most discussed. She is a patron saint of music and of musicians.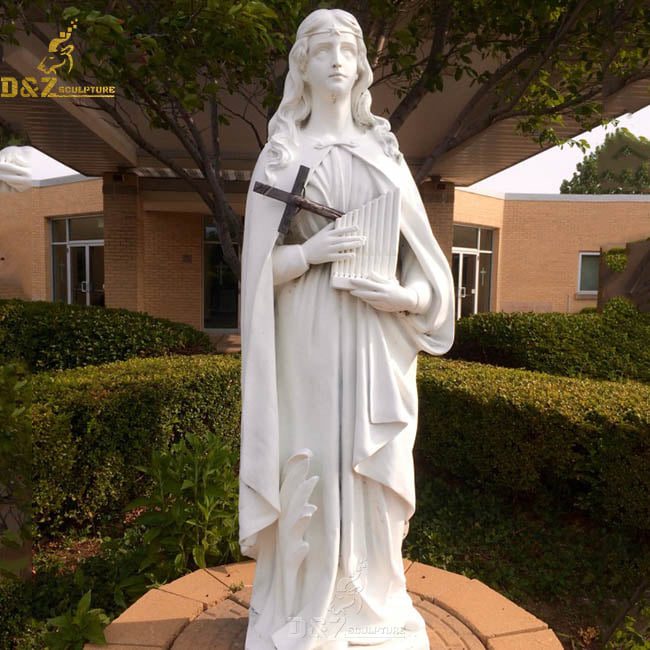 Born around the 2nd or 3rd century A.D., Saint Cecilia is a woman shrouded in mystery and honored as a martyr. Popular tradition holds that she, the daughter of a wealthy family, was promised in marriage to a Roman pagan named Valerian, despite the fact that she had already vowed her virginity to God, fasting and praying that her promise is preserved. It is said that on the day of her wedding she heard heavenly music inside her heart, and that very same wedding night she confronted Valerian. She told him that she was betrothed to an angel, one who jealously guarded her body, and warned Valerian that he must be careful not to violate her virginity. Valerian insisted upon meeting this angel, and Cecilia sent him to the 3rd milestone on the Via Appia where he should meet the Bishop, Pope Urbanus. He was baptized by the pope and returned to Cecilia, where an angel came, crowning them with roses and lilies. Valerian's brother, Tiburtius, came to visit them and was also converted to Christianity. It is also said that the brothers Cecilia converted became adamant witnesses to Christ, distributing rich alms and burying those who died glorifying Christ.
Though the preceding stories were traditional, we know the following facts of their martyrdoms as historical truth. It did not take long for the Roman Prefect Turcius Almachius to notice the three Christian's acts and condemn them to death. Maximus, the officer entrusted with the carrying through of this sentence, was converted as well and martyred by the sword with the two brothers. In light of this sudden betrayal, more trustworthy officers of the prefect were sent with haste to imprison Cecilia. Before being taken prisoner she made for her home to be used as a church after her inevitable martyrdom. She was taken before the prefect and condemned to suffocation in the baths of her home. Cecilia remained unscathed after spending quite a while in the overheated room, much to the frustration and confusion of her Roman holders, and the prefect sent in an executioner to finish the job. The executioner struck her neck thrice with a sword in an attempt to decapitate her but failed with every stroke to separate her head from her shoulders. The Romans left her to die, bathed in a pool of her own blood. Miraculously, she lived three days more, preaching, converting pagans, favoring the poor, and making arrangements for her house to be dedicated as a place of worship. After her three days of suffering in prayer, St. Cecilia's soul was passed over to God, her body buried in the Catacomb of Callistus by Pope Urbanus.
Usually depicted with the crown of martyrdom or an organ, St. Cecilia is credited as the patron saint of musicians largely for her large following of musical dedication and her experience of heavenly music at her wedding. Her feast day is celebrated on the 22nd of November. St. Cecilia has opened up the doors of liturgical music, reminding us of the importance of faith through song in the lives of Christians throughout the church and the world.