Statue of Jesus in the Abyss, san fruttuso, Italy. The snorkeling spot "Jesus in the Abyss" is about 2.5 meters high and made of bronze. During World War II, the Italian Navy was placed under the water about 17 meters deep. The statue of Christ looked serene, spreading his arms to pray for the world, and he was indeed lying. After this statue, the surrounding area has never been implicated by the war again.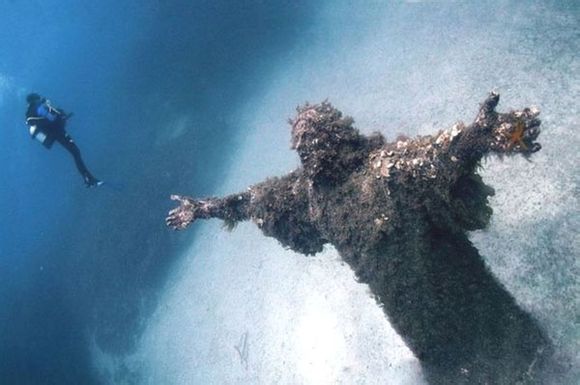 To get to San Frutoso di Camorí, you can only get there by walking along the path from the church of San Rocco, or by taking a ferry around Cape Chiapa and crossing the Gold Coast. In San Frutoso di Camogli there is an eighth-century religious building, according to legend, it was built to enshrine the martyred San Frutoso. The history of the small fishing village is even more ancient, with its history going back to at least the second or third century AD.
The Doria family built the monastery in the 13th century, and many members of this noble family were buried in it after their deaths.
If you dive into the depths of the bay, you can admire the famous "Underwater Christ", a marble statue designed by Guido Galetti, which was put into the water in 1954 to protect seafarers.