The bronze statue of Theodore Roosevelt, on horseback and flanked by a Native American man and an African man, which has presided over the entrance to the American Museum of Natural History in New York since 1940, is coming down. The statue was meant to celebrate Theodore Roosevelt (1858-1919) as a devoted naturalist and author of works on natural history. Roosevelt's father was one of the Museum's founders, and the Museum is proud of its historic association with the Roosevelt family.
At the same time, the statue itself communicates a racial hierarchy that the Museum and members of the public have long found disturbing. What is the meaning of this statue? And how should we view this historic sculpture today? The sculptor wrote that the two men were guides and could be seen to stand for "Roosevelt's friendliness to all races." The meaning of these figures is complicated and hard to untangle.
He remains the youngest person to become President of the United States. Roosevelt was a leader of the progressive movement and championed his "Square Deal" domestic policies, promising the average citizen fairness, breaking of trusts, regulation of railroads, and pure food and drugs.
American museum of natural history to remove teddy roosevelt statue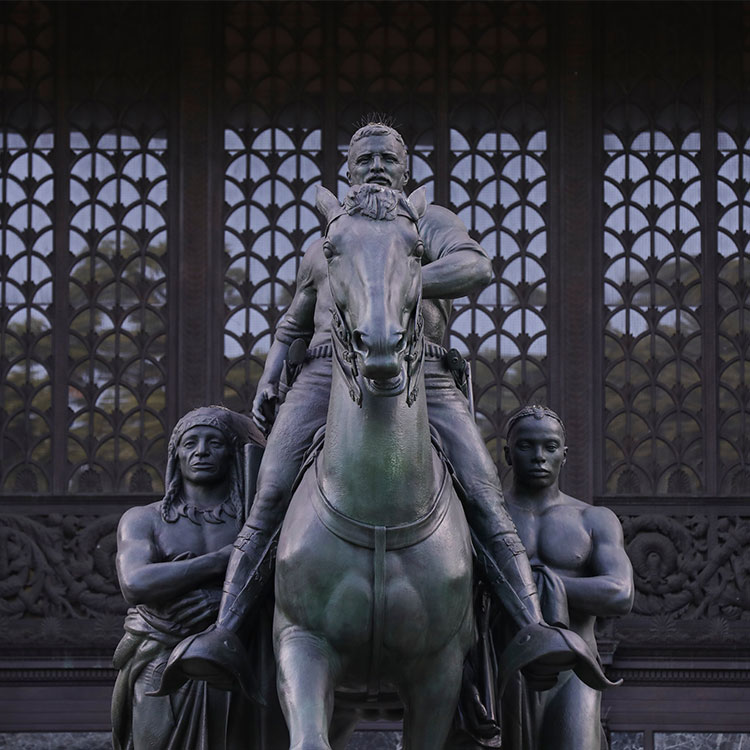 The American Museum of Natural History has asked to remove the Theodore Roosevelt statue. Mayor Bill de Blasio said: "The American Museum of Natural History has asked to remove the Theodore Roosevelt statue because it explicitly depicts Black and Indigenous people as subjugated and racially inferior. The City supports the Museum's request.
The American Museum of Natural History (abbreviated as AMNH) is a natural history museum on the Upper West Side of Manhattan, New York City. Founded in 1869, is one of the world's preeminent scientific, educational, and cultural institutions. The Equestrian Statue of Theodore Roosevelt was commissioned in 1925 to stand on the steps of the Museum, on city-owned property. The composition of the Equestrian Statue does not reflect Theodore Roosevelt's legacy. The Museum is providing new context and perspectives, presenting the history and rationale for the statue while explicitly acknowledging its troubling aspects.